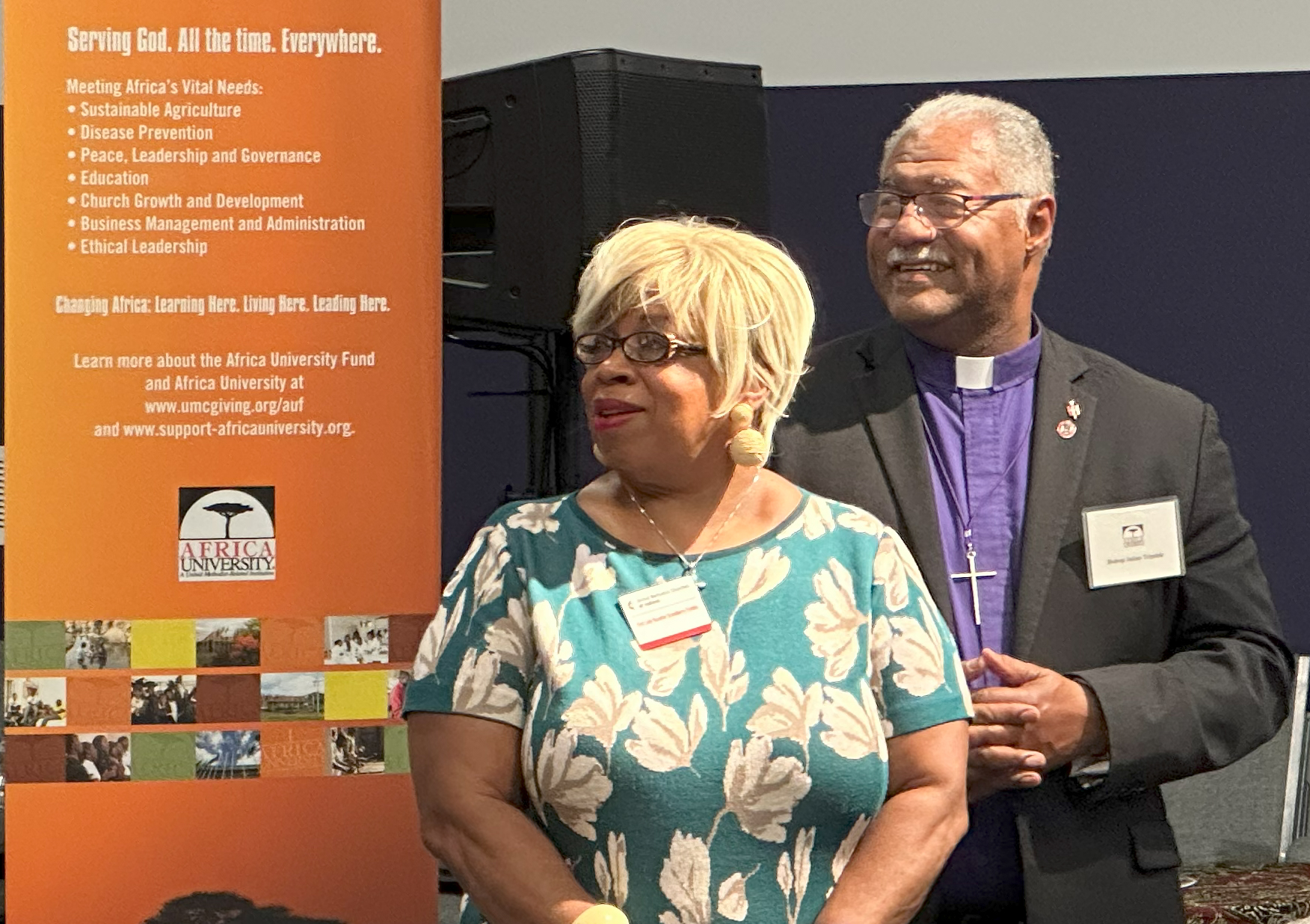 13 Nov

Couple celebrates 40 years of ministry

The Bishop Julius C. Trimble and Mrs. Racelder Trimble Endowment campaign will provide $300,000 to fund scholarships for Africa University students in perpetuity.


By Barbara Dunlap-Berg
Bishop Julius C. Trimble and Racelder Grandberry-Trimble are celebrating their 40-year journey in pastoral ministry by honoring another important milestone: the 30th anniversary of the opening of Africa University.


The Bishop Julius C. Trimble and Mrs. Racelder Trimble Endowment campaign will provide $300,000 to fund scholarships for Africa University students in perpetuity. The fundraising effort invites contributions from across The United Methodist Church, with particular focus on individuals, churches and communities that have been blessed by the couple's service and leadership contributions.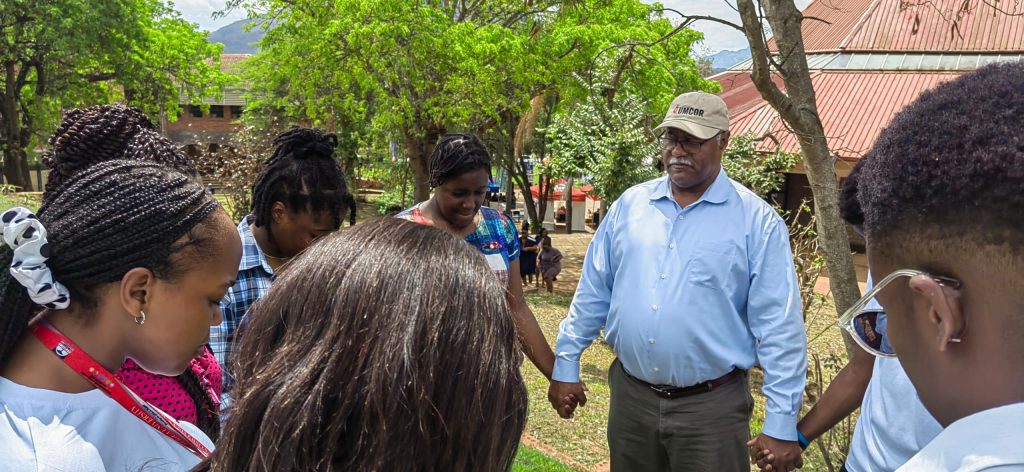 As the chair of the Africa University Advisory Development Committee and the Development Committee of the AU Board of Directors, Bishop Trimble shares responsibility for helping Africa University to grow its missional engagement.

"My mission statement," Bishop Trimble said, "is to encourage all people with the love of Jesus Christ to rise to their highest potential." His parents set a positive example.
"My parents were members of Old Ship African Methodist Episcopal Zion Church in Montgomery, Alabama," he said. "After moving to Chicago, John Trimble and Marybelle Pryor Trimble raised me and my five siblings at Christ United Methodist Church in our neighborhood.

"I remember being present when Dr. Martin Luther King Jr. spoke to a packed congregation. Early seeds of a commitment to advocate for justice were planted in my spirit."
As a teen, he attended lay speakers' school and expressed an interest in ministry.

"I attended college with encouragement and scholarship support from The United Methodist Church," Bishop Trimble said. "I married my college sweetheart in 1979 and held multiple jobs that brought me no sense of joy or purpose in my life. I found myself in a crisis of consciousness that led to my wife encouraging me to seek counsel from my pastor. My journey to ordained ministry began with me working with youth in my home church and attending Garrett-Evangelical Theological Seminary."

Several years after graduating from G-ETS, he traveled to Zimbabwe and was hosted by his former classmate Elias Nhamo Mumbiro.

"My interest in Africa University was confirmed," Bishop Trimble said, "as I stood with Rev. Mumbiro in front of the billboard 'Future Site of Africa University.'"

In 1996, he began raising student scholarship funds for AU as the Cleveland District superintendent in the East Ohio Conference.

"I have the rewarding opportunity to join with United Methodists across the church in support of raising friends and funds for Africa University," Bishop Trimble said. "I am a United Methodist because of our commitment to higher education, supporting children and families, and making dreams come true."

He cherishes his partnership in marriage and ministry with Racelder Grandberry-Trimble.

"We have been on a mission that has spanned over 40 years of encounters of young people who inspire us, and we are privileged to encourage," the bishop said.
Grandberry-Trimble concurs as she strives to serve God and positively influence as many lives as possible.

An alumna of the Methodist Theological School of Ohio, she holds a Master of Arts degree in counseling ministries. She graduated from the School of Business and Administration at Illinois State University and is a Doctor of Ministry candidate in global health and wellness at Saint Paul School of Theology.

Raised in the Baptist tradition, Grandberry-Trimble said, "I have never worked as hard for the Lord as I have in the United Methodist faith." Over the years, she has served in many roles, working alongside her husband in the East Ohio, Indiana and Iowa annual conferences.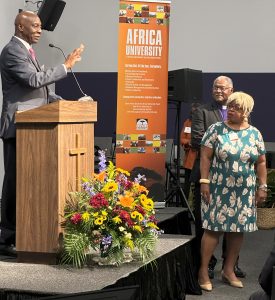 "I am blessed to be encouraged by many clergy couples in The United Methodist Church with a strong commitment to serve the Lord," she said. "We are blessed to be active, both as partners in marriage and partners in ministry."
Grandberry-Trimble's first visit to the continent of Africa was in 2000. "I participated in leadership and activities for a retreat with women from across the globe," she said. "This experience further strengthened my understanding of how individuals throughout the continent truly value education.
"I am committed to scholarships for those I may never meet and those I have known personally," she said. "Bishop Trimble and I believe that we do not have a choice when it comes to the ability to assist a student in reaching their highest potential."
In October 2017, Grandberry-Trimble traveled to Africa University for the first time. Preparing to return in October 2023, she was eager to see the changes that have occurred over the past six years.
"I am most impressed," Grandberry-Trimble said, "that students from different countries from Africa have found Africa University is where they have chosen to attend. The anecdotal stories and testimonies of students are awe-inspiring."
Leaders and members of the Indiana Conference, where Bishop Trimble has served since 2016, are excited about the endowed scholarship.

"The request to create the endowment to honor upcoming retirement," said D. Manet Shettle, "illustrates how [the bishop and his spouse] prioritize the ministry of AU. They were the first donors to the current campaign." Shettle is president of the United Methodist Foundation of Indiana.

"The changing of lives and preparation of leadership for the future is happening at AU," said Bishop Trimble. "Every dollar is well spent. During this time of angst and concern for the future of The United Methodist Church, it is important to remain steadfast in supporting this disciple-making and transformative ministry.
"If we want to transform the world, we must invest in Africa University."

Dunlap-Berg is a freelance writer and editor in Carbondale, Illinois.