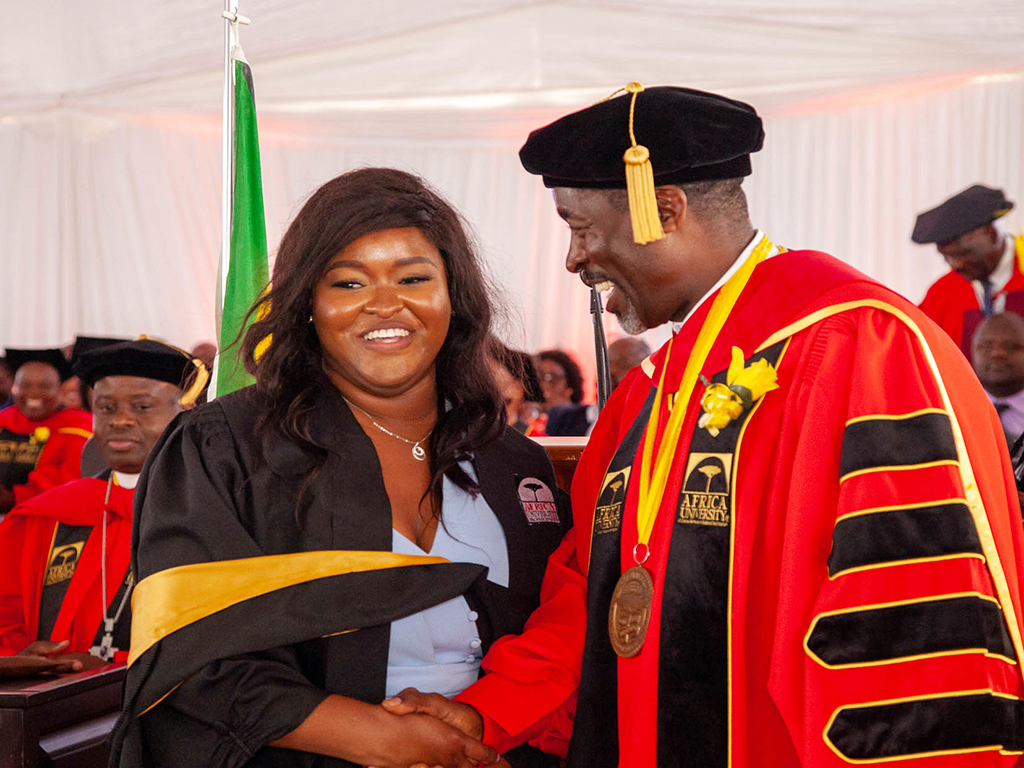 09 Jul

AU graduates its largest class ever

More than 950 students from 19 countries received degrees. Over 60% of the new alumni are women.

One graduate is Sandrina Ishimwe of Rwanda. Studying business management in the College of Business, Peace, Leadership and Governance, she credits AU with opening her eyes and opening doors to new possibilities. 
"I learned to mix and mingle with different nationalities," Ishimwe said. "I learned different languages through my classmates and friends. I learned teamwork, working under pressure and integrity. On top of that, Africa University taught me honesty in everything."
Ishimwe would love to manage a business, where she can implement the skills that she honed at AU and promote Pan-Africanism.
Another new Africa University alumnus is Freddy Samalenge Kibasa of Congo.
Recalling his relief when he was awarded a scholarship, Samalenge said, "A huge burden was taken off my shoulders as, being an orphan, I was in serious difficulties. I will never be grateful enough, as [receiving a scholarship] allowed me to focus on academics.
"My journey," he continued, "was full of good memories. Africa University shaped me differently, redesigning my vision of the world, and taught me how to be a true leader in our continent. Today, I look back and see five incredible years that I wished would never end." He hopes to earn a graduate degree in economics.
During his final year at Africa University, Nathanael Garikayi Lekalake lost his mother to breast cancer. Appealing for and receiving assistance, he said, "Without this opportunity, the financial hill we would have had to climb would have been too steep to bear.
"With completion of my degree," he said, "I have fulfilled my mother's dream: for me to be an educated young man, and I am fully dedicated to ensuring that the task is complete. After being equipped with this incredible blessing, I shall be a strong ambassador of Africa University."
The 29th graduation ceremony was marked by firsts. Collins Prempeh from Ghana, the first Deaf student from the Institute of Theology and Religious Studies, graduated with a Bachelor of Divinity degree. In addition, the first doctoral cohort of six received the Ph.D. in Peace and Governance from the College of Business, Peace, Leadership and Governance.
The Rev. Peter Mageto, vice chancellor and professor, applauded the hard work and determination of the class of 2023 and detailed the myriad developments occurring at the university.  
"We are grateful to God for the successes we have recorded with the launch of new programs and, most notably, our newest school, the School of Law," he said. "We have managed to offer over $2 million in scholarships and financial aid. We have just signed an extension of the Master's in Intellectual Property for a further five years."
He highlighted infrastructure developments on campus. The East Ohio Women's Hostel is under construction with completion set for later this year. Spearheaded by Bishop Tracy Smith Malone and the East Ohio Conference, the hostel will provide access for more women to reside on campus.
Guest of honor and keynote speaker was Professor Theresa Nkuo-Akenji, board chair, Regional Universities Forum for Capacity Building in Agriculture, and vice chancellor, University of Bamenda Bambili, Cameroon.
Observing that AU's growing female student population reflects its intentional determination to uplift more African women, Akenji pointed to the challenges of women's access to higher education, business and the corporate sector.
"At Africa University," she said, "the student population is 52% female. This is a laudable effort to shift the paradigm, demonstrating Africa University's commitment to the global movement toward equitable and inclusive opportunities for all." Akenji encouraged the graduates to seed their talents and skills within their communities, not to shy away from hard work and to keep making history, not only for themselves but for their families and nations as well.
The 2023 graduating class hailed from Angola, Botswana, Burundi, Cameroon, Côte d'Ivoire, Democratic Republic of Congo, Ethiopia, Gambia, Ghana, Kenya, Liberia, Malawi, Mozambique, Nigeria, Rwanda, Tanzania, Uganda, Zambia and Zimbabwe.
Adapted from a news story by Jeanette Dadzie, the Interim Director of Advancement and Public Affairs at Africa University. Photo credits: AU Office of Advancement and Public Affairs. Story edited by Barbara Dunlap Berg.